The Incredible Tour
Day 14 – Fraser Island to Brisbane
Being our last day on Fraser we are going to explore the southern part of the Island, gradually working our way back to the barge at Hook point.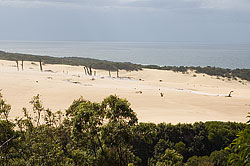 We drove down the beach and then ventured inland for the first stop at Stonetool Sand Blow outlook.
Shifting sands of the Stonetool Sand Blow uncovered ancient trees that look quixotic with the ocean in the background.
Our next point of interest was the Hammerstone Sand Blow and Lake Wabby, the deepest of Fraser Island's lakes dammed by encroaching sand on the eastern side. At the parking lot we spotted a couple of goannas – very large and fast lizards. They almost didn't scare us.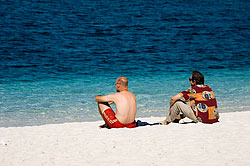 After Lake Wabby our group split, the party of two Land Rovers opting to stay on the island longer and heading off to explore Lake McKenzie – a beautiful perched lake with clear blue water, and one of the world's best white sand beaches, while the group of two Jeeps headed for home.
Our next stop was Central Station by Wangoolba Creek. There are no trains at Central Station, but from 1905 until about 1935 there was a light rail system used by logging industry. Logging operations on Fraser Island lasted up until 1991. Down by the creek there is a boardwalk that allows visitors to immerse themselves into the unique tropical rain forest that grows from the sand.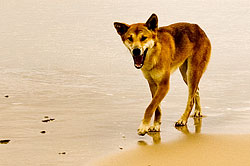 On our way to Hook Point we were rained on. Also we got to see dingoes, and a vehicle that was stuck in the surf and later recovered. Fraser Island had been a terrific part of the trip, but it was time to get on the barge and go back to mainland.
Once at Rainbow Beach we re-inflated the tires to street pressure, fuelled up, and set the course to our friends' place near Brisbane, stopping for dinner at Red Rooster (Australian chicken fast food chain) in Nambour.