The Incredible Tour
Day 02 – Cowra to Hillston
W ake up, wake up, it's time to go. Our first day's plan was to travel all the way to the Weddin Mountains National Park, but we only made it to Cowra. Now, on the second day we were shooting for Willandra National Park, but alas, only made it as far as Hillston, a reminder of how long the distances in Australia can be.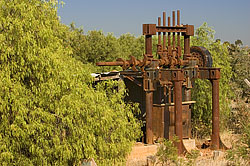 No worries, we were not in a race; but we were covering the ground at a decent pace, sampling attention-grabbing places along the way. One such place is O'Briens Mine at Grenfell, the birthplace of writer Henry Lawson. With shafts as deep as 750 feet (230 m), in excess of $3 million worth of gold was recovered from the mine between 1866 and 1871, and most of that was in the first three years of production.
We made a quick stop at the Grenfell newsagency, and then the post office to mail our first postcards of the trip to friends and family.
All the gold in the area attracted many bushrangers – outlaws living in the bush. The most infamous of which was Ben Hall. And it was his hideout, a cave in Weddin Mountains that we went to see next. According to the visitor guide, the Weddin Mountains National Park is an island of bushland in a sea of agriculture. It is rich in wildlife and history and a great place to go camping, bushwalking and birdwatching. We took the bushwalking option and ambled the 1.5 km Ben Hall's Cave Trail to check out the bushranger's lair.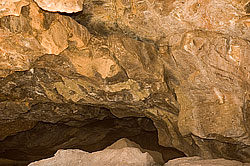 The gang of Frank Gardiner, John O'Meally, John Gilbert, Ben Hall, John Dunn, Mike Bourke, Dan Charters, Alec Fordyce, Harry Manns and John Bow ranged far and wide, holding up mail coaches, travellers, storekeepers, homesteads, a gold escort and on one occasion the town of Canowindra for two days. Ben Halls Cave reportedly was one of their hide out places in the historic period within 1859 to 1865.
After navigating the maze of dirt roads back to bitumen, we set course for Hillston passing through West Wyalong and Lake Cargelligo along the way. Having arrived late in the afternoon and not wanting to rush to Willandra before nightfall we settled for rolling out the swags on a nice grassy lawn at the Hillston Caravan Park.
The bar at the nearby Hillston Ex-Servicemens Club (registration required for visitors) provided a great introduction to Australian beer. We then had dinner at the club's Chinese restaurant where we partook in the great Aussie tradition of buying tickets in the Club's meat-tray raffle. If you are lucky enough to win, you will take home a tray packed with enough meat to feed a family for a week! Unfortunately our tickets were all duds, so with empty hands but full bellies, we strolled back to the caravan park, watching some of the local oldies finishing up a game of lawn bowls along the way.