The Incredible Tour
Day 12 – Fraser Island
Today we are going to Fraser Island. First, we went to purchase camping and vehicle permits at the National Parks office located on the east side of the Rainbow Beach Road across and slightly south from Carlo Road. After acquiring the permits we fuelled up, met with the rest of our party, and headed to Inskip Point where the barges to Fraser Island depart.
Before driving onto the beach to meet the barge we stopped to let air out of the Land Rover's tires. "Airing down" increases the footprint of the tires, allowing for more comfortable travel and extra floatation on the soft sand instead of digging in.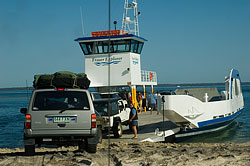 The barge between Inskip Point on the mainland and Hook Point on Fraser Island goes for about 2 km, and the ride takes less than 10 minutes. Some of the barges have ramps both astern and abaft; this makes embarking and disembarking convenient, especially for vehicles towing trailers.
At over 120 km long, covering an area in excess of 166 thousand hectares, Fraser Island is the largest sand island in the world; it was named after Eliza Fraser who was shipwrecked there in 1836.
We drive off the barge and race up the east side of the island before the tide rises. After exploring a number of campsites we picked a very nice one between Eurong and Happy Valley. Our campsite was near the beach, shaded by trees, elevated with great views, and not in the wind. Once the tents were up, we ventured on our first excursion of Fraser Island.
Roughly 5 km north of Happy Valley, Eli Creek empties on average 120 million litres of fresh water into the ocean every day. The water ponds at the beach, creating sandy pools children of all ages like to play in. Some like to walk up the creek, and float down. There are also boardwalks for those who would rather not get wet. Are there fish in Eli Creek? – Yes, we saw an eel hiding in the weeds. There are many creeks and streams on Fraser Island; Eli Creek is the biggest on the eastern side, and one of the most beautiful and picturesque.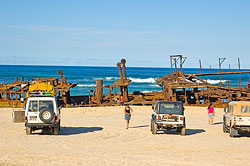 Our next stop is the shipwreck of the Maheno.
The well known trans-Tasman liner Maheno was built in 1905 and had displacement of 5323 tons. During World War I, the Maheno served as a hospital ship. At the end of its life in 1935 the Maheno was being towed to a Japanese scrap yard, but when struck by an out-of-season cyclone drifted to Fraser Island, where it was abandoned. During World War II the Royal Australian Air Force used the ship for target practice.
After exploring the Maheno remains we headed back down the beach to Happy Valley, where we visited the tourist shop, and then we returned to our campsite. A grand dinner was cooked and consumed, after which our group talked and played games well into the night.