The Incredible Tour
Day 16 – Brisbane to Grafton
We are heading down the coast. Unlike the outback, the east coast of Australia from Brisbane to Sydney is a very green and a relatively densely populated region. The coast is also adored by tourists, and we had planned to stop at a number of these touristy places along the way.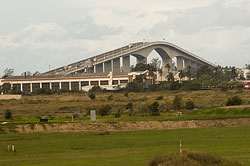 The best view of downtown Brisbane we got while crossing the Gateway Bridge.
Commissioned on January 11th, 1986, the Gateway Bridge stretches 1.63 km across the Brisbane River. At its highest point the bridge is 64.5 meters above water, and the largest span is 260 meters.
Once on the Gold Coast, we took a little detour to Currumbin, where the famous bird sanctuary is located. There is also a big rock on the beach, called Elephant Rock, with dazzling views from the observation platform on top of it.
Up Pacific Parade we went for lunch to the Dean and Susan Olarenshaw cafe/restaurant named "the beach shack". It's a lively place that serves the best Beer Battered Dory, as well as variety of great food, and a range of teas and drinks.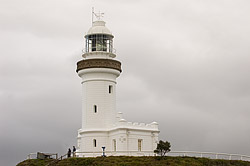 Further down the coast our next town to slow down and take a look around was Brunswick Heads and after that its bigger and louder cousin Byron Bay. At Byron Bay we visited Clarkes Beach, a place favoured by surfers. Then we went to the Cape Byron Lighthouse park where the most easterly point of the Australian mainland is located. There was a light drizzle of rain, but we enjoyed some spectacular views nonetheless. When we got back to our vehicle and started driving, the rain really picked up and was pouring down for a while, a real contrast compared to the dry, dusty, drought-stricken outback.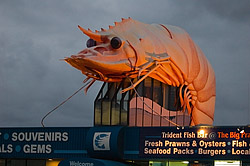 It was getting dark when we passed through Ballina, but there was one thing there that we could not miss – The Big Prawn. It's basically a giant shrimp sitting on top of a building. A pretty cool site, The Big Prawn is one of Australia's big things.
Big things in Australia are something very cool. They are basically objects that are big. They usually start out as something owners of various places put up to attract visitors, and attract visitors they do. There is a big pineapple, big bottle, big lobster, big banana, big cheese, big orange, big Merino and a bunch of other big things all over Australia, but mostly on the touristy Boomerang coast.
Once we reached Grafton we settled for the night in a nice motel room that had a couple of beds and surprisingly, a couch.