The Incredible Tour
Day 18 – Sydney. Epilogue
We are back in Sydney where we started. During our trip we covered over 6000 kilometres, mostly on dirt roads. We passed towns with only a handful of people living in them, and we drove through great plains, with one "middle of nowhere" changing the other, but ever so different. Our mission to explore the remote places had been successfully accomplished, and now we are in a city of 4 million people.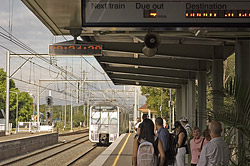 What the heck, let's go and take a look at Sydney!
Like any other sensible person, we didn't drive into the centre of Sydney, we took a train.
CityRail cars have two stories, well actually three – you enter through the doors at the middle level, and then you can take the stairs to the upper level or to the lower level.
Once in the city centre, we went through Chinatown, visited souvenir shops and Paddy's Market – an actual market, where all kinds of things can be purchased for cheap. You can also get conned there, we were conned into massages by a group of Asian fellows. They relieved us of tension, and some not very painful amounts of cash!
At Darling Harbour we visited the Aboriginal Art and Cultural Education Centre, had an Aussie brunch of pies, chips and beer at one of the harbourside cafes, and shopped at the Australian Geographic store. We took the Sydney Monorail for a complete loop and then some, and thereafter walked down Pitt Street to Circular Quay – the popular ferry terminal between the Coathanger (the Sydney Harbour Bridge) and the Opera House.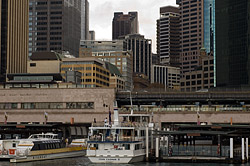 From the Circular Quay we hopped on a ferry that took us through the harbour to Manly, a beach-side suburb of northern Sydney popular with tourist backpackers. We purchased some fish and chips, and ate our late lunch at some aluminium tables and benches on the promenade overlooking Manly Beach. Hungry seagulls soon surrounded us demanding food, some gulls managed a couple of chips before being chased away by a street cleaner.
When we got back on the ferry, the sun was setting, and soon we were rewarded with spectacular Sydney night skyline.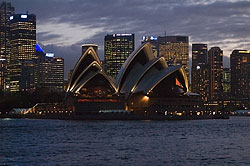 The End.