The Incredible Tour
Day 17 – Grafton to Sydney
This is the beginning of our last day of travel before arriving back in Sydney – where we started our journey two-and-a-half weeks ago.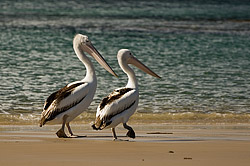 We headed down the Pacific Highway, and took a side trip on Eight Mile Lane through Sandy Crossing towards the little coastal town of Minnie Water and the Yaraygir National Park. The tidal sands off the Illaroo Rest area is one of a small number of places where driving on the beach was still allowed. At one place we stumble upon a group of pelicans.
Next point of interest is The Big Banana at Coffs Harbour which is working banana plantation and amusement park of sorts. You can take a plantation tour; there is toboggan ride, ice-skating ring, and a real snow slope, which for the subtropics is intrinsically remarkable but curiously has nothing to do with bananas. We allowed ourselves to indulge in souvenir shopping, and then proceeded to the eating area: bananas this, bananas that, bananas dipped in chocolate and frozen on a stick, dip fried bananas, banana coffee – The Big Banana is definitely the place for anything banana.
And then we are on the road again. Our next detour was The Trial Bay Gaol at South West Rocks.
Trial Bay Gaol started out as a prison between 1886 and 1903, constructed for the purpose of housing prisoners of a public works project: building a seawall to further protect ships seeking refuge in Trial Bay. But storms and rough seas plagued its construction and after many years of no measurable progress the seawall project was abandoned. The prison closed, then reopened in 1915. Throughout 1918 it was used to house "alien enemies" of World War I.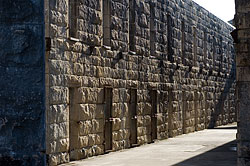 We took the self guided tour of the gaol, visiting the cells, looking at different building ruins within the compound and for a view of the never-completed sea wall and surrounding Trial Bay we climbed to the top of the guards' watch tower. An interesting item on display in the museum is the original instructions for the operation of a Rescue Rocket: MAKE THE TAIL OF THE BLOCK PAST TO THE LOWER MAST WELL UP. IF MASTS ARE GONE, THEN TO THE BEST PLACE YOU CAN FIND. CAST OFF ROCKET LINE. SEE THAT THE ROPE IN THE BLOCK RUNS FREE & SHOW SIGNAL TO SHORE.
Rescue rockets were used back in the days to save people from ships stranded at sea.
The rest of our day was consumed by hauling ass back to Sydney, stopping only for fuel, and for dinner in a roadside restaurant/gas station at Bulahdelah.