The Incredible Tour
Day 11 – Roma to Rainbow Beach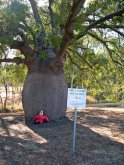 In the morning we went to see Roma's Largest Bottle Tree. Bottle Trees are similar to Baobabs, however they narrow at the bottom and feature hollow trunks. Roma's largest has a girth of 8.9 meters (over 29 feet).
Another one of Roma's attractions is The Big Rig. It's a sort of a museum-amusement park dedicated to the history of oil and gas exploration, and Australian petroleum industry.
On Warrego Highway out of Roma we passed places with such names as Wallumbilla, Yuleba, Dulacca, and Drillham before entering Miles a town that catches attention of visitors with its Historic Village complex.
Then we drove through the "Melon Capital of Australia" – Chinchilla. The Melon Festival was not on, so we did not stop, but there are some points of interest in town, including a museum with steam engines, and several historic buildings.
We stopped for lunch at McDonalds in Dalby. Australia has all the major fast food chains but there is almost always a local twist applied to the menu. For instance, an Australian burger, called McOz in McDonalds, or Aussie Burger in Hungry Jack's (Australian Burger King, there is Burger King too, but it's a different chain). The McOz is an energy packed burger, it has more calories than a Big Mac, but slightly less fat, and it is high in sodium, sugar and protein.
A typical Australian burger consists of a beef patty, wheat bun, sliced tomato, lettuce, cheese, grilled onion, barbecue or tomato sauce (ketchup), and the star ingredient – beetroot. Beetroot is a very healthy vegetable, under appreciated in some countries, it promotes digestion, stimulates and helps the liver to build up protection, contains potassium, magnesium, phosphorus, sodium, calcium, iron, vitamins A and C, and other nutrients. Some studies have shown that beetroot has a tumor-inhibiting effect, thus helping to prevent cancer. Australians eat a lot of beetroot; you can find it in restaurants and supermarkets, in all shapes and forms from canned beetroot to wilted beetroot greens.
Out of Dalby we take the Bunya Highway and drive through Bell, Kumbia, Kingaroy, Tingoora, Wondai and Murgon. We get on the Wide Bay Highway at Goomeri, then pass Kilkivan and turn right on Bruce Highway after crossing the Mary River.
Gympie, a city of about 12 thousand people, is where we hit traffic. We take Channon Street, Horseshoe Bend Road, Stewart Terrace, Bath Terrace, Wolvi Road, Gympie Connection Road, and then Tin Can Bay Road out of the city. After about 38 km of following slow vehicles with trailers towing recreational boats, we turn off, onto Rainbow Beach Road. The slow vehicles turn off too, but they let us overtake, and after another 30 km we are at Rainbow Beach.
Our first priority at Rainbow Beach was to find a place to stay for the night. The local Caravan Park was all booked, so we went to explore other options and found a beautiful resort house with a bunch of rooms, fully furnished, with a pool, and barbecue. Usually such places need to be reserved long in advance and for prolonged periods of time, but as luck would have it, the house was empty for just one night, and we grabbed it.
After stocking up on food, supplies, and refreshments, we grilled some steaks and sausages on the "Barbie", and had a party with friends that arrived just in time.
The shipwreck of the Cherry Venture is one that we did not visit, but its large stainless steel propeller on display at a park overlooking the ocean at the end of Rainbow Beach's main street is a monument that we did not miss.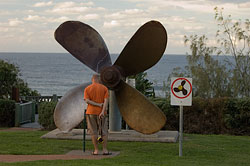 The Cherry Venture a 1600 ton cargo ship bound for Brisbane from New Zealand was driven aground near Double Island Point South of Rainbow Beach. Straying too close to shore due to an intense storm of 140 kph winds and a swell up to 40 feet, a distress call was received at 5.50am on July 6th, 1973. Seven hours later after both her anchor lines had snapped the floundering ship was dumped upright onto the beach and continued to be battered by the gale and huge breakers crashing over her. With the lifeboats swept away, a Breeches Buoy was rigged to rescue the uninjured crew. With some extraordinary flying by two RAAF Iroquois helicopters all crew were safely rescued and shuttled to nearby Tin Can Bay. After several salvage attempts to refloat her failed the wreck has become a tourist landmark.