The Incredible Tour
Day 13 – Fraser Island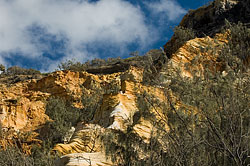 Rise and shine, it's time for our second Fraser Island excursion. We headed up the beach again, crossing the streams, and stopping here and there to appreciate the scenery and take pictures. One such place is "The Pinnacles". This is where erosion of sand hills neighbouring the beach creates a picturesque maze of spikes and voids from multi-colour layers of sand.
Further up the beach we backtrack for a little bit, chasing an eagle, and then proceed toward Indian Head – a large rocky protrusion that hovers over the ocean, fighting it, acting as a metaphorical anchor for the whole island.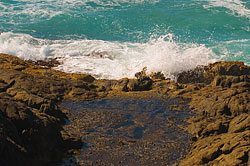 At Middle Rocks, further north, we park our vehicles and take the boardwalk to an outlook with great views of Champagne Pools and the striking stretch of beach to Indian Head. Champagne Pools are deep natural tidal pools formed by a volcanic rock barrier that provides partial shielding from the ocean surf. Then, after driving on the inland track, we emerged on the north side of Waddy Point. We explored around a bit and went even farther north and inland for a swim in Ocean Lake.
Ocean Lake is one of the Fraser Island's window lakes, formed when the ground drops below the natural water level. The water in Ocean Lake is brown in colour and thus heats up from the sun pretty good. You wouldn't call it warm, but it certainly was not chilly when we were there. Swimming was very enjoyable, and afterwards we stayed by the lake to munch on lunch that we brought with us.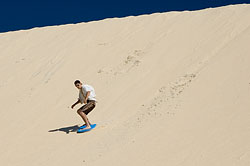 Then we drove back to the beach and proceeded a little more north, before coming back to Waddy Point to play on the steep sand dunes. When we were done, we drove to the store in Orchid Beach for ice cream and stuff. After that we met up with more friends and headed back to camp for another portion of night entertainment, singing and story telling.