The Incredible Tour
Day 09 – Birdsville to Windorah
Birdsville, known as Diamantina Crossing before 1885, is a small town in the Australian outback with a population of around 100. Located on the edges of the Simpson and Sturt Stony deserts Birdsville is most famous for a horse racing event. Held every year on the first weekend of September since 1886 the races attract thousands of visitors and tourists. Birdsville is also a passing point for 4WD adventurers that cross "Big Red", the first or last – depending on which direction you are travelling – of over a thousand dunes of the Simpson Desert.
In the morning we went to the local library, and then to The Birdsville Working Museum. The museum is a truly remarkable place. There are all kinds of old things on display: a collection of barb wire; advertisement posters; toys; medicines; 1956 Olympic Games memorabilia; booklets; tins; boxes; vehicles; carriages; farm equipment and implements; pictures; photographs and much more. At 9am, 11am and 3pm the owner John Menzies gives tours to visitors, showing things ordinary and extraordinary from the years past. John is a factual hands-on guy. He turns things on; lights up a carbide lamp; demonstrates rock crushers and water pumps in action; plays old records on a cardboard player and makes funny remarks about visitors.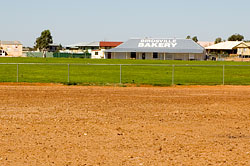 After visiting the Working Museum we went to the Birdsville Bakery for tasty treats. The bakery is a modern civilized-looking place that at the same time does not have the "in your face" sentiment but rather feels charming and amiable. Inside the building there is a windmill decorated by some of the local aboriginal women.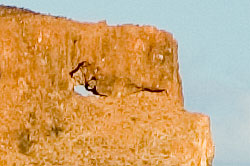 It is time for us to leave Birdsville, we are not venturing any further into the outback, but retreating east, heading to the coast more than 1500 kilometres distant. However, do not think that we are not going to have any more fun – far from it! We stopped on the side of the road to check out abandoned vehicles, and also to squint at Mt. Henderson from the distance. Hard to see, but definitely there, Mt Henderson literally has a hole right through the top of it.
For the night we settled in the luxurious Cooper Cabins at Windorah. The local pub provided decent food, cold beer and good-natured entertainment of chatting with the friendly barmaid – who had just returned from studies in Norway and was working to save money for more travel – and some local and not so local dinkum Australian blokes. Who would have guessed that, "sitting on me arse and scratching it" was a respectful business activity in Aussie-land.