The Incredible Tour
Day 01 – Sydney to Cowra
After stocking up on food at the local Woolies (Woolworths supermarket) the evening before, we commenced our journey, driving west towards the outskirts of Sydney. Prior to heading into Blue Mountains, a part of the Great Dividing Range that separates the coast from the inland, we had a stop to make. We dropped in on our friends at Suburban 4x4, www.suburban4wd.com, one of only a handful of off-roading shops in Australia specializing in Jeeps.
There we caught up on the industry news, looked at the latest projects and some new expedition trailers. The folks at Suburban 4x4 are very friendly, and we could have spent all day there, but it was time to move on, and get the show on the road.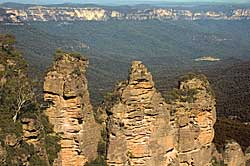 Our first official point of interest of the expedition was the Three Sisters, at Katoomba. Katoomba is a quaint resort town in the Blue Mountains that can be accessed by train from Sydney – approximately 100 km east – or by car of-course. We parked at Cliff Drive, and wandered down to Echo Point, a lookout perched on the edge of an escarpment offering a spectacular view of three unique sandstone spires commonly known as the Three Sisters, and below, the vast eucalypt-filled Jamison Valley flanked by extensive golden sandstone cliffs which are a feature throughout the Blue Mountains.
We'd have loved to stay longer, but not even a day into our Incredible Tour, we were already behind schedule. We continued our ascent of the mountains, following the Great Western Highway and about 20 km out of Lithgow – a coal-mining town with a rich industrial heritage – we reached the highest altitude of our trip, 1169 meters according to the dash-mounted GPS unit. Another 80 km down the road, after driving through Bathurst – one of the larger country regional centres and well known for its motor racing circuit – we stopped for dinner at Blayney.
Blayney is a small farming and industrial service town with a museum and a number of historical buildings. Blayney marked the beginning of our drive into the "land of sweeping plains".
Our first day of travel ended in Cowra on the Lachlan River where we settled for the night at the friendly Country Gardens Motor Inn.
Near the end of the 2nd World War Cowra's overcrowded Prisoner Of War camp was a site of the largest POW breakout in modern history – over 300 Japanese prisoners escaped and over 250 died, a large number of buildings were burned to the ground. Local people gave great care to the graves of the prisoners. Japanese people were very impressed and their gift was a tranquil Japanese garden designed by Ken Nakajima, who also built gardens in Moscow, Montreal, New York, San Diego, Houston, Hamburg, Perth and many other places. The garden opened in the late 70's and remains one of the Cowra's main attractions.