The Incredible Tour
Day 07 – Innamincka
Cooper Creek is a river named by the famous Australian explorer Charles Sturt after Sir Charles Cooper a Judge who later became the first Chief Justice of South Australia. In times of drought it slows to a trickle, but there are a number of places, called waterholes, where large amounts of water forced through narrow passages during infrequent floods create deep river ways. Cullyamurra Waterhole is one such place, said to be 100 feet at its deepest point.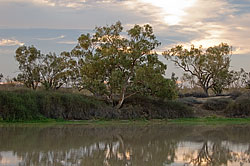 Surrounded by barren desert, the contrast the lush gumtree lined banks of Cooper Creek presents is mind-boggling. There are fish in the water, and mass quantities of birds live it like they mean it. There are water birds, birds of pray, various kinds of parrots, doves and a wide array of little birds.
Little grey birds would come right into our camp to investigate and spend time with hairless monkeys. These birds had a curious way of dealing with ants. They would grab an ant and throw it up in the air, really really fast. Perhaps the birds do it, so that ants don't spray them in the eyes with formic acid. Or maybe they do it so that ants do spray formic acid all over the birds to kill parasites. Or maybe they just do it for fun.
Our first point of interest for the day is Burke's grave about 7 km downstream or 21 km by car from our campsite. The grave monument erected in 1934 marks the site where Robert O'Hara Burke died on June 28th, 1861.
Out on the wastes of the Never Never –

That's where the dead men lie!

There where the heat-waves dance forever –

That's where the dead men lie!

– Barcroft Boake
The tragic story of early Australian explorers Burke and Wills is a grave lesson – even in this modern age – of how poor planning in the harsh Aussie outback can turn to disaster.
On August 20, 1860, Robert O'Hara Burke led a exploration party of 20 men, 23 horses, 25 camels and 20 tonnes of supplies out of Melbourne, Victoria with the aim of being the first to complete a south-north crossing of inland Australia and thus opening an overland route.
Disappointed with slow progress of the expedition by the time they reached Menindie Bourke decided to leave most of the supplies and wagons there and head for Cooper Creek with a smaller group travelling light. The wagons with supplies and the rest of the men were to follow in a few days time when they were rested.
By November 11 Burke had reached Cooper Creek where they waited 6 weeks for the remaining stores and men to arrive. But the straggling party, languished by illness and the hot conditions had been forced back to Menindie and would never make it to Cooper Creek.
Impatient, Burke decided to take 12 week's of provisions, 6 camels, his pony, and 3 men – Wills, King and Gray to make the final 1200 km assault north to the Gulf of Carpenteria. He ordered the remaining men Brahe, Patton McDonough and cameleer Dost Mohomed to build a stockade and wait only three months for him to return from his trek north. If he hadn't returned by that time the stockade at Cooper Creek was to be abandoned and the group presume Burke lost or dead and head back to Menindie without him.
While the camels carried their supplies the men walked and despite extreme conditions made it all the way to the Gulf! But they were running out of food and the trip back to Cooper Creek had to be done under strict rations. Weak (not helped by the flogging Burke gave him for stealing food) and suffering malnutrition Gray died before the remaining three stumbled back to Cooper Creek arriving on April 21, 1861 (four months and five days after they had left), Of course they found depot deserted. The irony was that Brahe and the group waiting for their return had disobeyed the order to wait 3 months and only just left that morning, about eight hours previous! The only consolation was a cache of food left for them that was hidden under the sand at the foot of a coolibah tree and on which the message:
DIG 3FT. N.W.
APR. 21 1861
was carved. When Burke, Wills and King realised they had just missed the others they thought of following but were just too exhausted to move and had to rest! After regaining some of their strength they decided to head for a police outpost 320 km away at Mt hopeless. Before they set off they covered over all their tracks and any evidence of being at the Dig Tree for fear of being tracked by Aborigines. This turned out to be a big mistake because Brahe who had patiently wait 4 months for Burke to return did go back for one last look to make sure the explorers hadn't returned. Seeing no trace of activity at the abandoned depot thinking that Burke and the others were lost forever. Little did either party realise just how close to each other they were!
Burke, Wills and King never did make it to Mt hopeless. Starving and poisoning themselves by trying to eat local bush food they did not know Aborigine secret to preparing they died near where Innaminka lies today. King, on the verge of death was nursed back to health by the local Aborigines and 5 months later discovered living among the tribe by one of four search parties looking for the lost explorers. Two years passed before the remains of Burke and will were recovered and brought back to Melbourne for a state funeral for which more than 100,000 people lined the streets.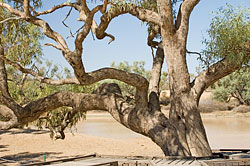 After visiting the Burke's grave we wanted to see the legendary Dig Tree, where supplies were left for Burke and Willis at the site of the expedition deport party. From Burke's grave site to the dig tree is about 70 km, and over some of the harshest roads encountered on our entire trip. Even at lowered pressure the tires copped a pounding, the tread blocks starting to show a myriad of cuts and missing quite some chunks, especially on the rears which carried the majority of weight.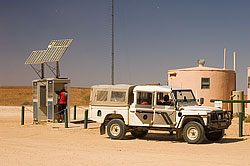 Something else we want to do today is laundry. There are public showers and a public laundry room in Innamincka in the round buildings next to the solar powered phone booths. The laundry room could be considered unsophisticated, it consists of a deep sink you can hand wash your clothes in. Fortunately, we learned that there was another laundry in town, around the corner, and equipped with coin operated washing machines. We went there to enjoy the fruits of civilization. Though the dryer was broken, there is no need for it in the desert; we just hung our clothes on a makeshift washing line of rope strung between trees back at camp.
The sunset on that day was one of the most magnificent there could be. We headed to the town's hotel for dinner.