The Incredible Tour
Day 03 – Hillston to Menindee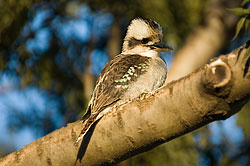 Birds have it good in Hillston. Yesterday afternoon a kookaburra, the laughing bird, was sitting on a low tree branch by our site at the caravan park. It didn't mind the attention, and seemed to like being photographed.
This morning we were woken up by hundreds of cockatoos. After grabbing a bite to eat at the grain silo nearby, these joyful white birds were flying around making a hell of a racket. For fun or for purpose, some of the cockatoos spun in the air like little acrobatic planes (if you can imagine an acrobatic plane with fat body and short tail that takes delight in not only flying, but shrieking with ear piercing screeches).
With swags rolled and the Land Rover filled with diesel we headed off to our first destination of the day, Willandra National Park, about 64 km north-west.
Covering approximately one eighth of what used to be the famous merino stud property Big Willandra, the National Park was gazetted in 1972 and is over 19 thousand hectares in size. Willandra Creek that runs through the park used to be an important travel route and food source for Aboriginal people.
We checked out the information centre and the little museum with artefacts, and then proceeded to inspect the restored Willandra Homestead. The U-shaped building with wide verandas all around – and a rose garden in the middle – contains a few pieces of original furniture and has many albums of photos and stories that offered a fascinating insight to history of the property. An elevated walking path behind the homestead offers nice vantage points to observe bushy creek surroundings.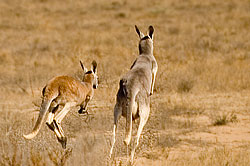 After exploring the weir, we left, driving through the flat open plains of the park via the Merton Motor Trail. We were generously rewarded with scenery of kangaroos and emus. The place is full of them! The Vibration Reduction lens proved itself useful for taking pictures of wildlife from a moving vehicle. Due to the dusty conditions it was practically impossible to stop for a photo, upon slowing the trailing dust would catch up, smothering our Land Rover immediately, and by the time it settled the animals were usually far away. Off course, the best way would be to shut the motor, and wait for the animals to come to you, but we had fun with our photo-safari style shooting.
Then it was on to Ivanhoe where we started our first substantial piece of dirt road – 200 km to Menindee. Being quite smooth and with lengthy straight sections we made good time, stopping only for a quick lunch of tinned flavoured tuna and bread which we shared with many flies!
With high, gumtree lined banks, green water, and many birds the Darling River at Menindee was a welcome stop before we settled for the night – just in time for the beautiful sunset – at a campground in Kinchega National Park right by the river.